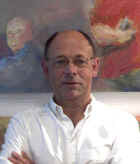 Patrick Bouchaud artiste peintre,
Né en 1947 à Nantes, diplômé de l'École des Beaux Arts, a suivi les ateliers peinture et dessin de Montparnasse.
Atelier fresque de la ville de Paris. Ateliers de la ville de Lyon.
"La lumière éclate, les couleurs chaudes dominent.
Le monde pictural de Patrick Bouchaud est soleil et joie de vivre.
Personnages, animaux, paysages sont interprétés avec allégorie et dynamisme.
L'action gomme les détails.
Les "figurations libres" de l'artiste créent une symphonie vivante de sons, cris et murmures.
Humaniste, Patrick Bouchaud chante une merveilleuse harmonie entre l'homme et la nature."
Zaven 2008
"Impressionist painter, sensitive and warm,
Patrick Bouchaud know how to appreciate light, the quality of
an expression and the line of a body as well as the play of colours."
.
1er prix signature 2003 Palais Royal, Paris.
.
Galeries :
Galerie Gavart 4 rue d'Argenson 75008 Paris (en permanence),
L'Oeil du Prince 75017 Paris (en permanence)
Salons :
D'Automne Paris, Artistes Français Paris, Violet Paris, Art Contemporain Aquitaine Bordeaux, International Saumur Art Cheval, Lineart-Belgique-
Expositions :
Open Art Salvadore de Bahia Brésil - Anvers, Shanghai, Berlin, Asto Museum Gallery Los Angeles, Paris, Pornic, Louveciennes, Dourdan, Championnat international Polo d'Apremont - Championnat international Amazone Haras du Lion d'Angers - InterArt Greifswald Allemagne - Open-Art Atelier Grognard Rueil Malmaison, Villepinte - Halle à la farine Versailles...
Cotation Drouot, CNFAP, AIAP UNESCO, Fondation Taylor. la Maison des Artistes.